Are you looking for the best camping hammocks? For people who enjoy spending time in the great outdoors, a camping hammock is a critical piece of equipment. Not only can they provide a place to sleep, they provide an effective rain cover and an ideal location to relax during any down time. Camping hammocks have been staples of adventurers for decades, but in recent years, they have become more convenient and accessible than ever before.
Because of their small size and low weight, hammocks are a popular camping accessory for both hikers and cyclists.
Camping and backpacking have recently become some of the most popular outdoor activities' equipment. It's easy to see why; hammocks are indescribably peaceful.
The big, old-school canvas or rope hammocks that used to hang in practically every suburban backyard have been displaced in recent years by lighter, more packable, diagonal-laying hammock types.
Hardcore hammock shelters that can completely replace your standard tent or lightweight nylon wisps that pack down smaller than a can of beer are now available.
Even the classic spreader bar type (also known as a bridge or lay-flat) has resurfaced in popularity. as manufacturers have developed lighter, more packable versions
Below are a variety of alternatives that have gone through their paces and tested and are the camp hammocks that are the finest in 2022. There's certain to be one (or three) that meets your wilderness and backyard requirements.
Overall, the best
The Best Camping Hammocks
best overall camping hammock.
The Kammok mantis harmock
Kammok was founded after the founder tried to use a few of the popular parachute hammocks instead of a tent on a backpacking trip and found that they ripped and failed during the night. Since then, the company has made it a mission to produce hammocks made of high-quality materials and innovative designs that will not let you down.
The Mantis ($239) is Kammock's top-of-the-line dedicated hammock tent. It also has a more expensive ultralight version for $270 and a $420 tent/hammock combination called the Sunda 2.0. And it comes with a lot of functions in a well-thought-out, all-in-one package for campers who want to do it all.
Hammocks all perform the same fundamental function, with a few exceptions, therefore the manufacturer's attention to detail can distinguish a brand. With the Mantis, there are few, if any, off-the-shelf components.
The hammock hanging ropes are light, high-strength polypropylene with a smooth "continuous loop" sliding adjustment style, and the micro carabiners are a proprietary 13kN design. It also comes with Nanoweave tree straps that are non-stretch and low-bulk.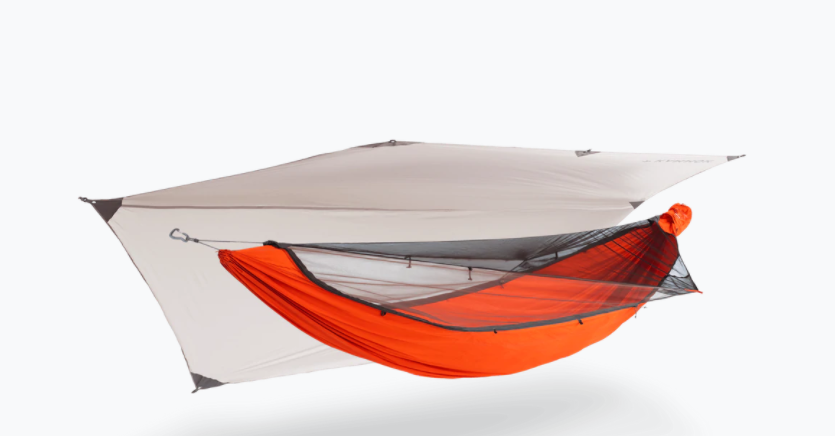 Other nice features include body of the harmock made out of a durable 40D ripstop Nylon Diamond weave. A also, it comes with a detachable insect net made of a specific mesh for better stargazing. In addition, the 15D nylon rainfly features Hypalon-reinforced guy-out points for further strength during storms.
Best for: General camping and lengthy trekking excursions
2 lbs. 14.5 oz. total weight
Pros:
Light
Sturdy, with well-considered detailing
Cons:
Two more stakes for hammock guy-outs are not included.
Best Camping Hammock Runner-Up: Blue Ridge Lawson Camping Hammock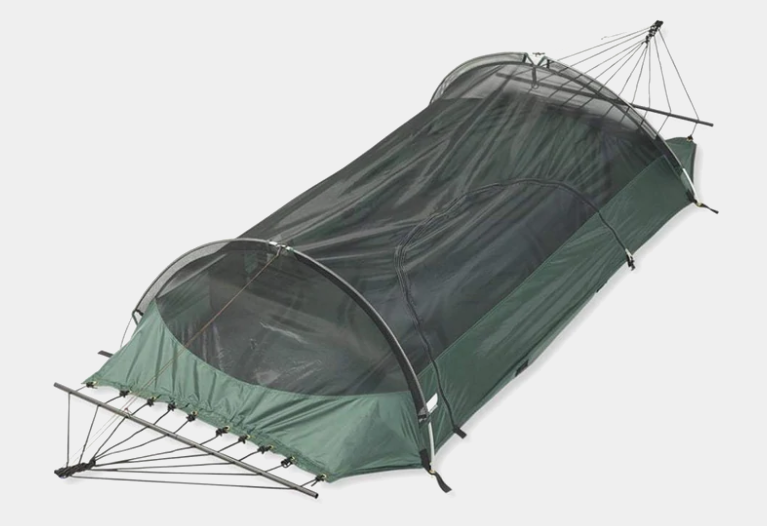 This fantastic hammock tent ($229 hammock only) is jam-packed with amenities, but it's a little heavier and thicker than the Mantis, making it less suitable for longer excursions.
But one of the finest features of this camp hammock is that it can be put up in a lay-flat position. Those who can't bear the cramped sensation of a diagonal hammock but still want a full-featured experience can choose the Lawson.
Aside from the convenience of sleeping in a lay-flat position, this hammock tent deserves praise for characteristics like the roomy loft of the upper mesh (which is a fine no-see-um mesh) and the ability to set this hammock on the ground like a conventional tent. Even though you're sleeping on the ground, it seems like you're in a snug bivy sack.
The Blue Ridge is a well-made, sturdy hammock, but it has a more sophisticated construction. The spreader bars are connected and supported by a tangle of cordage that converges at the hanging point, providing several possible failure spots.
The materials are sturdy and long-lasting, although they aren't nearly as sophisticated as those found in more costly choices like the Kammok.
Best for: Shorter backpacking trips or treks when size and weight aren't as important.
4 lbs. 15 oz. total weight (this includes the straps)
Pros:
Comfortable
There is plenty of space and it may be put up on the ground.
Cons:
It's a bit thick and hefty.
Check Amazon's price The Blue Ridge
Hennessy 4Season Expedition Zip Hammock is the best four-season hammock.
Hennessy 4season expedition zip
A camp hammock has the benefit of being able to be set up in a broader range of terrain than a tent. Swinging free in the air gets you away from rocky and uneven terrain, but it also means you miss out on some of the insulating benefits of resting on the ground.
The Hennessy ($270) avoids this problem by using a second layer of nylon in the bottom panel. This enables you to use the accompanying open-cell foam cushion to raise the temperature rating to around 40 degrees Fahrenheit. The supplied reflective space blanket may then be placed above or below it to keep you warm in the cold.
hennessy 4season expedition zip – hennessy 4season expedition zip – hennessy 4season expedition zip
The asymmetrical design is a signature characteristic of Hennessy's collection. Hennessy hammocks vary from popular parachute hammocks in that they allow users to sleep totally flat in the diagonal hanging position, providing firm support to the lower back.
Best for: Those who want to spend the entire year in a hammock.
5 lbs. 3 oz. total weight (this includes the straps)
Pros:
It's simple to adapt to a broad variety of temperatures.
Cons:
Heavy
Hennessy Hammock has a great price.
The Warbonnet Outdoors Blackbird XLC is the best modular tent hammock.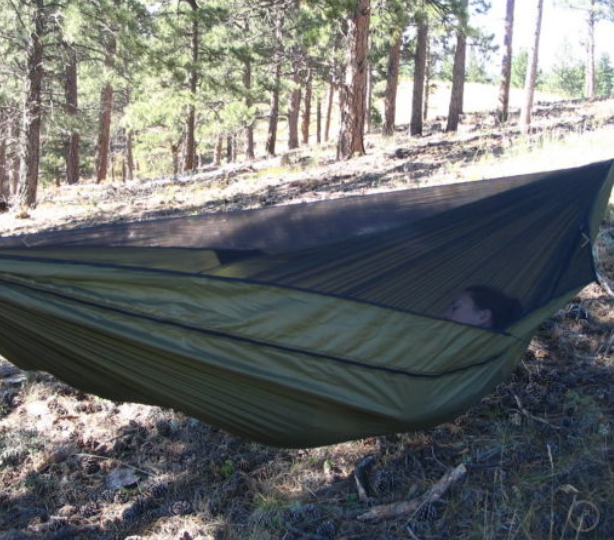 This fantastic tent hammock ($200) is ideal for individuals searching for a high-quality hang with a variety of customizing possibilities but don't want an all-in-one solution. Warbonnet also builds their hammocks to accommodate any future additions you may make. So, even if you can't afford your ultimate configuration right now, you'll be able to upgrade later.
A fully detachable insect net is also included, as well as new Dream-Tex fabric, which is lighter, tougher, and more pleasant than the old nylon.
It also has a fabric strip at the top that keeps it up and off your head and feet, as well as the option to reverse how it hangs so you may sleep with your head to the left or right.
Best for: Tent campers looking for a variety of alternatives.
Total weight: 1 pound, 5.75 ounces (single-layer, no-straps variation)
Pros:
It's simple to customize to your needs.
It's possible to put it up on the ground.
Cons:
For most people, there may be too many possibilities.
Warbonnet Outdoors has the best price.
Klymit Traverse is the best budget camping hammock.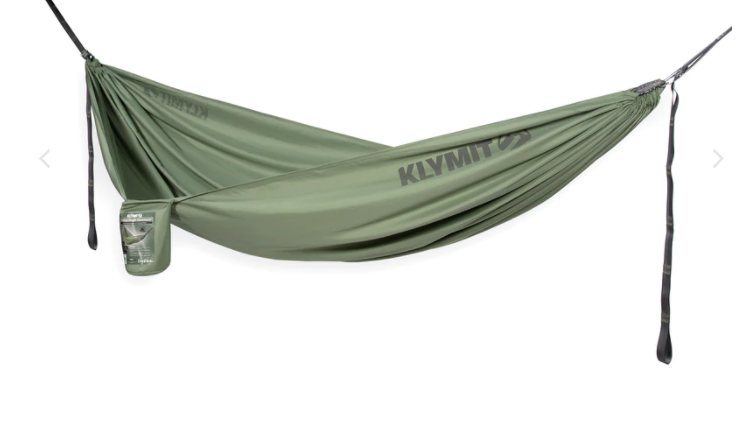 The Traverse ($55) is the most cheap hammock in the list, but it's a well-built hammock made of high-quality 75D polyester that's sturdy, light, and very comfWhile the Traverse appears to be identical to all the other diagonal/parachute harmocks that are available for sale, it is manufactured out of one panel rather than the standard three used in other designs.
This provides a comfortable sleeping/chilling position that keeps your body on a flatter plane, avoiding the terrible banana bend that other hammocks can cause.
Who it's best for: Those looking for a simple, no-frills camp hammock.
1 pound, 12.8 ounces total weight
Pros:
Lightweight and long lasting
Cons:
Features that are as simple as possible
Check Amazon's price klymit traverse hammock
Nakie Recycled Hammock is the best eco-conscious hammock.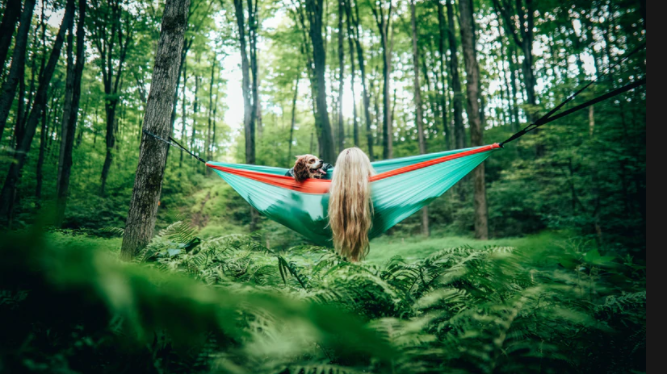 In a nakie hammock, a woman and her dog
Because there are so many parachute hammocks on the market, you may discover a variety of generic options that are typically less expensive. The Nakie ($98) variant, on the other hand, is unusual in that it is built entirely of recycled materials.
So, if being environmentally responsible is important to you, this is the best option for a relaxing hike in the woods. The hammocks are made with material that is comparable to 37 post-consumer plastic bottles, and for every hammock purchased, the firm plants four trees.
Best for: Taking with you everywhere you go when you're outside.
2 lbs. 17 oz. total weight
Pros:
Made entirely of recyclable materials
Guaranteed for life
Cons:
There are a few features
BE Outfitter Campo Hammock is the most versatile hammock on the market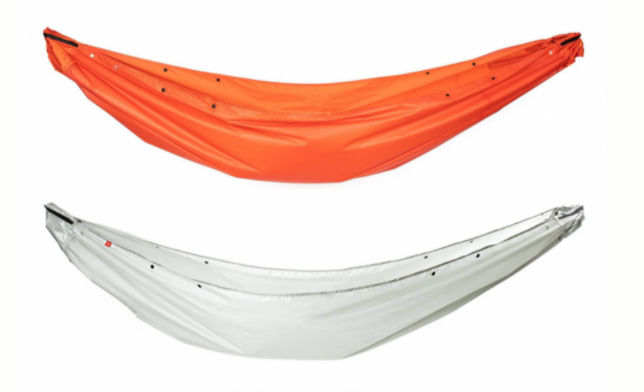 The BE ($85) is the hammock for you if you want to get the most out of your gear and want to be able to use it in numerous ways. It may be used as a hammock, a waterproof poncho, a tarp shelter, or a groundsheet in addition to being a beautiful hammock for resting.
BE campo poncho outfitter
The robust 70D nylon sheet gathers at either end in hammock mode for attaching onto tree straps. A secret waterproof zipper and hood may also be deployed while untethered to keep rain showers at bay. The poncho's snaps on the sides allow you to produce short sleeves for more movement and protection.
Best for: Those who want their camp hammock to be versatile.
1 pound, 0.8 ounces total weight (no carabiners or straps)
Pros:
It transforms into a poncho!
Cons:
It's not possible to wear it while resting in it.
Check Amazon price here fo BE Outfitter campo
Most Versatile Runner-Up: ENO SkyLite
SkyLite by Eno check it out
Consider the ENO SkyLite ($170) if you want a hammock that serves as both an useful shelter and a place to unwind.
the sleevessBy using eco-conscious shock-corded poles made of anodized DAC aluminum as spreader bars snap right into the sleeves of the fabric the basic bridge design takes ideas from tent building. The insect mesh canopy is hung and features a large double-zipper opening that covers the hammock's 7-foot length, allowing for easy entry and egress.
Despite its light weight, the SkyLite seems rather spacious at 7 feet long and 3 feet broad. The flat-bottomed design makes it comfortable to sleep in a variety of positions. The bug net zipper has been reported to be brittle by certain users.
Best for: Campers looking for a hammock that can be laid flat.
2 pound total weight
Pros:
In a tiny, portable form, you get lay-flat comfort.
Cons:
I'm unable to delete the bug net.
Check out the prices at REI and Backcountry.
Tentsile Trillium 3-Person Hammock is the best big hammock.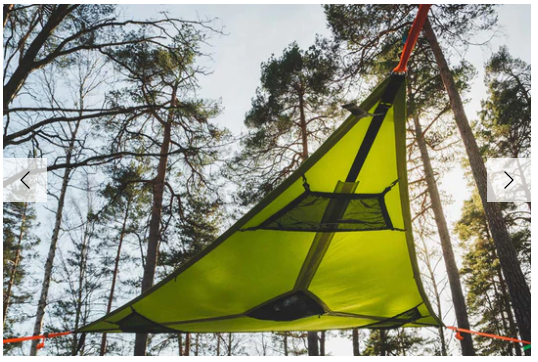 3-person tentsile trillium
Tentsile is well-known for its enormous tree tents. The business creates hanging surfaces using heavy-duty ratchets and sturdy webbing, which customers frequently assemble into multilevel buildings in the woodland sky.
For vehicle camping and informal afternoon hangouts, the triangular Trillium "hammock" ($369) is ideal. Three robust and well-spaced trees are required to correctly put up the Trillium.
The Trillium can hold three people, six children, or two adults and two children on the taut yet cushioned surface, which is ideal for sleeping or picnics.
The Trillium comes with a mesh or fabric floor and storage compartments in each corner for storing clothing or materials. There's also a central hatch in the centre for convenient access.
Best for: Setup for long-term vehicle camping or overlanding trips.
17 lbs., 1 oz. total weight
Pros:
Spacious
Three adults can sleep peacefully.
Cons:
Quite hefty
Setting up and dismantling takes some time.
Tentsile has a good price. Check it out
How to Choose the Best Camping Hammock is a Buyer's Guide.
Camping hammocks are adaptable pieces of equipment that may easily replace a tent while still providing the pleasure of midday reclining.
Being hung in a hammock, swinging softly while the air reminds you of your weightlessness, has a particular joy to it. Hammocks have grown in popularity in recent decades as outdoor enthusiasts rediscover the pleasures of tent-free camping.
Hammock camping may appear like a novelty hobby reserved for backyard fun to seasoned outdoor sleepers who swear by the tent. Hammocks, on the other hand, have become a perfectly genuine and feasible alternative to tents owing to clever product design and the development of useful attachments.
All of the hammocks on this list are highly recommended. They're all viable options, but we'd want to assist you in selecting the ideal one for your personal camping needs.
Consider how and where you'll use your hammock before purchasing one. Will it mostly be used throughout the day? Will you use the hammock regularly in cold or wet weather? Is the location where you intend to hang your hammock infested with mosquitos?
Focus on the features you can't live without and which you can't live without. Continue reading for more information on the weight, value, simplicity of setup, accessories, durability, protection, and adaptability of the product.
Weight
The weight of a hammock is especially essential for individuals who wish to transport it from one campsite to another. We included both lightweight and heavy hammocks, even though hiking hammocks aren't the emphasis of our list.
To begin, keep in mind that the total weight of a hammock isn't always indicative of its quality. A suspension system is required to set up a hammock for sleeping in.
This refers to the ropes or straps that attach to the anchor points of the harmock that are wrapped around trees or diiferent permanent objects, and hang the entire contraption.
A light hammock and a hefty suspension system can easily cancel out each other. Rainflies and other accoutrements, for example, follow the same approach.
Keep in mind that lightweight fabrics are typically thinner and more delicate than other possibilities. Even yet, for individuals wishing to save weight, a hammocking arrangement may be put together that is substantially lighter than practically any one-person tent.
Setup time is minimal.
Setting up a hammock is a straightforward procedure that comprises securing your suspension system between two trees or other solid locations and suspending both ends of your hammock from the system.
Though the method is straightforward, some hammocks are faster and easier to set up than others. Before going hammock camping, we recommend that you practice setting up your hammock in a park or in your home a few times.
While many hammocks are set up in the same way, with two symmetrical anchor points and a cocoon-like form, others on the market have somewhat different designs, which might make the setup procedure more difficult.
To produce a smoother sleeping surface, asymmetrical hammocks require the user to lay diagonally inside the hammock.
Setup might become complicated and time-consuming depending on your accessories. If you require a bug net, we recommend getting one that is already integrated into the hammock. This will save you a step and cut your setup time in half.
Whoopie slings are becoming more popular as a suspension system alternative since they are lighter and easier to adjust than other suspension systems.
A rainfly, an insulative underquilt, and a sleeping pad are some of the other items that may need to be set up. When it comes to ease of setup, we recommend purchasing attachments that are made to work with your specific hammock.
hammock eno doublenest
Accessories
On the hammock market these days, there are a plethora of fascinating and potentially helpful attachments. The importance of accessories attchments are for the personalization of your harmock so that your specific camping demands are being met. . The Rainflies, including insulative underquilts, and insect netting are among the most helpful and ubiquitous accessories.
Rainflies
Rainflies are waterproof nylon coverings that keep your hammock protected from the elements, especially rain and snow. They're composed of the same DWR-treated nylon as tent rainflies and perform exactly the same way.
A rainfly should be large enough to cover your whole hammock. We recommend getting one made precisely for your hammock's make and model. This will guarantee that you are properly covered.
Many hammock owners choose to use bigger rainflies, which provide a covered space outside the hammock that may be utilized for cooking during a rainfall. Keep in mind that more material equals more weight.
Sleeping pads and underquilts
While laying in a hammock, insulative underquilts prevent you from losing body heat through your exposed underbelly. An underquilt may not be essential on hot summer evenings, but they are a must-have when it becomes cold.
An underquilt is a blanket that hangs beneath your hammock and fits to your body's contour. The underquilt keeps heat from escaping through your bottom. Some top-of-the-line cold-weather underquilts are certified to -20 degrees Fahrenheit and are packed with down or synthetic insulation.
They are available in three lengths: full-body, half-length, and three-quarter length. Of course, the warmest choice is a full-length underquilt, but for those worried about the weight of their gear, shorter quilts can be a perfect answer.
A nice sleeping pad might be an excellent choice for hammock campers who don't want to use an underquilt.
Nets for Bugs
A bug net is vital if you're traveling to famously pest-infested areas like the Pacific Northwest or the Colorado altitude. Bugs aren't a big issue in a tent because they're usually made of totally enclosed mesh bodies. In an open hammock, though, you'll almost certainly become meal for hordes of mosquitoes if you don't have a mosquito net.
Separate nets that entirely wrap the hammock and normally open and close with a zipper are offered for hammocks without built-in nets.
Anti-bug hammock is the best.
Durability
Because most hammocks are composed of thin nylon, the material's denier number will tell you a lot about the hammock's overall durability. The denier rating is a measurement of material thickness; the greater the denier rating, the more abrasion-resistant the hammock. Hammocks made of ripstop nylon are also a good alternative.
In general, handle your hammock as though it were a delicate piece of equipment. The thinness of the hammock material makes it susceptible to ripping, melting, and fraying. If you treat your hammock gently, it should last a long time – especially if it's of great quality, like the ones on our list.
Protection against the elements
Some hammocks are manufactured with fabric that has been treated with a DWR treatment. While this might be useful, your hammock should ideally never become wet.
Make sure your hammock is put up as far away from the elements as possible. This normally entails a high-quality rainfly, but hammock placement is also crucial. Avoid regions with a lot of wind.
In most situations, a hammock may be just as useful as a tent as a source of shelter. Even when it's pouring rain or snowing, a night in a hammock should be warm, pleasant, and dry with the appropriate setup and accessories.
Versatility
The main functions of the camping harmock is to give a secure and pleasant shelter for either relaxing or sleeping outside. To do a bit of adaptability is not bad but a good enhance ment.
While we don't encourage sleeping in a hammock with another person for the purpose of comfort, two-person hammocks are more adaptable than the one-person hammocks. On our list the only item that is over six feet wide is the The ENO DoubleNest harmock , allowing it to be utilized as a two-person resting zone or as a lovely sofa to lounge in sideways during relaxing days at camp.
While some users may be hesitant to add more material because it adds weight, having the ability to utilize your hammock for more than simply hunkering down at night is a pleasant luxury.
FAQ
Is Camping in a Hammock Safe?
Yes. Hammocks are a safe alternative to tents when camping when put up appropriately for the conditions. Before you travel, make sure you know how to set up your hammock and check the weather forecast.
Bug netting and rainflies, for example, can help you be prepared for sleeping on a hammock outside.
Is a Hammock More Comfortable Than a Tent?
Tents and hammocks are two different types of outdoor sleeping shelter, although they both provide appropriate and reliable protection. Whether you utilize a hammock or a tent depends on your own choice.
However, for that wonderful sense of being gently rocked to sleep, nothing beats a hammock.
Is a Hammock More Comfortable Than a Tent?
No, is the quick response. In general, sleeping in a hammock is cooler than sleeping in a tent, because the ground provides remarkable insulation. A hammock with sufficient insulation and shelter, on the other hand, may be pleasant and warm even in subzero conditions. For optimal warmth, pick the correct sleeping pad or underquilt.
Four-season tents are still the gold standard for the worst winter circumstances.
Is a Double Hammock Large Enough for One Person?
A double hammock is designed to accommodate two people and is often rated to handle at least 400 pounds securely. A double hammock may accommodate two people, although sleeping in a hammock with another person is typically rather unpleasant.
Double hammocks are preferred by many single users. The extra material gives you more room to stretch out, and some people like to wrap the hammock around themselves like a cocoon. Double hammocks are often heavier, but they provide some excellent comfort that may be worth the extra weight.
Conclusion
Hammocks are a very affordable backpacking option. Depending on your needs, you can find hammocks made with different kind of fabrics. For example, some can be made with breathable fabrics, which is good for warm weather. If you're looking for something bulkier or if you live in a cooler climate, you might want something that offers warmth. If you are concerned about the enviroment, you can go for recycled Hammocks