What are the best camping swing chairs for camping?
The simple elegance of a camping chair allows you to unwind and rest while on your adventure. Adjustable reclining options let hammock chairs swing like hammocks. Auto-recline, cup holders, and headrests are all standard on the finest models. Consider the hammock chair's size, weight, durability, and other features to provide optimal comfort and relaxation while camping. The Nemo Stargaze Recliner Luxury Camping Chair is the perfect choice if you want a small, strong, and comfy hammock chair with the best accessories.
Before purchasing a camping chair, here are some things to consider.
Size
Consider the size of the camping chair before you buy it for packing and comfort. Make sure the dimensions stated on the website description match your size and the location where you intend to pack the product. While some chairs can be folded and packed down to a tiny size, others can only be folded and packed down little. In order to get the most out of your camping chair, make sure it's big enough for you and tiny enough to fit in your car.
Weight
Make sure the camp chair you're considering can support your bodyweight before making a purchase.
Whether or not you can easily carry a chair depends on its weight, which is an essential consideration for transportability. The weight of a camping chair varies, but it is seldom too heavy to carry to a campground. Most will come with a carry-on bag, making it simple to move them about.
When purchasing a camping chair, your weight is an essential factor to keep in mind. Oftentimes, camping chairs have a stated weight restriction. This is the heaviest the chair can support before being damaged or collapsing.
Durability
When shopping for a quality camping chair, look for one with a solid structure and long-lasting materials. Look for one that is made of durable, waterproof fabric and is well-stitched. In order to maintain its capacity to support a significant amount of weight while being breathable, the chair's fabric should have some type of mesh. In addition to a comfortable hammock seat, the finest camping chairs with hammocks will include a robust structure that allows you to swing and recline comfortably. Users of all sizes and weights will benefit from a chair with a robust frame since they will feel more secure and in control.
What to look for in a hammock camp chair that's worth the investment
In addition to the head and armrests
Consider a camping chair with a headrest and armrests if you're looking for more comfort while relaxing. While most models come equipped with a headrest, only a select handful go the extra mile to include armrests. It is more probable that you will be able to totally immerse yourself in relaxation when using this chair if it has additional cushioning behind the head and under the arms. When you're swiveling or reclining, a headrest can also act as a neck support.
Accessories
A mesh waterproof bag for transporting the chair and a cup holder are among the included extras with a high-quality camping chair.
When in use, a camping chair's carrying bag will keep it dry and protected from the elements. A strap and an easy-to-carry design are required for the bag.
In order for chairs to be truly comfortable, they must include a cup holder. The finest hammock chairs for camping allow the user to swing and relax while their drink remains secure in the cup holder.
In what price range might you anticipate to find a camping hammock chair?
The price of a decent camping chair ranges from $65 to $220. The top quality chairs will have a robust frame, a durable material, and a smooth swing with a reclining option.
FAQ about the camp chairs
Q. Where can I sutilize a hammock chair for my next camping trip?
A. hammock chairs may be used at the beach as well as camping. The chairs' distinctive reclining and swinging qualities make them ideal for stargazing or for long periods of time spent watching a certain area or scene.
Q. Before choosing a camping chair, why should I take my height into consideration?
A. Before making a purchase, customers should double-check the chair's dimensions on the product page to ensure that they will be able to sit comfortably in it. The chair will be unbalanced and difficult to swing if the person is too tall for it. Legs might dangle awkwardly over the edge of the platform if the person is too short. If you sit in this posture for a long amount of time, you risk cutting off your circulation.
When it comes to purchasing a camping chair, what are the finest options to consider?
The best Swinging chair for camping
A cozy campground, warm clothes, and time spent in your camp chair await you after a long day exploring the great outdoors.
Unquestionably, a comfortable trip is one in which one feels at ease. When it comes to the camp chairs themselves, there's always space for improvement. We've found that rocking and reclining in the comfort of a swinging camp chair may be the solution. Moving your weight around can assist alleviate the stress on your lower back, hips, and knees from sitting for long periods of time in a single position. Compared to typical camp chairs, they might be a little more expensive, but they are also more adaptable. There is a lot of comfort to be gained from chairs with a bit more movement if you spend a lot of time sitting around, tailgating, camping, or hanging out at the beach. Starting at just $70, these are our top picks for swinging camp chairs.
If you want a camp chair that can rock or swing, you'll have to pay a little extra. Because metal is the most expensive portion of a chair, adding the capacity to rock raises the chair's price. Choosing a typical fixed camp chair may be the preferable choice if you're going to be strolling with your chair for a few miles.
Rockers are typically less expensive, but they don't offer the same level of relaxation as a hammock. If you spend most of your camping time under a pavilion or beneath a tree, search for a fabric chair that is made like a hammock, which will be lighter and more comfy than a regular chair. However, keep in mind that they are rarely usable unless mounted to anything in the air.
If you're looking for a swinging camp chair around $60, you'll find a lot of alternatives that are nearly identical save for the logo. More practical features like cupholders and cushioned armrests, as well as a more durable design that can endure frequent outside usage, may be had for a little premium.
How the assessment is made
Expertise testing were tilized on camp chairs while picking these swinging camp chairs. Expert analysis also included the best solutions available from big-box shops, internet merchants and outdoor brands. None of the swinging chairs on the list had any bad complaints about damaged parts or ripped fabrics, therefore they didn't make it into the final cut. Also looked upon at each chair were the chain's price, value, features, and customer reviews before deciding which one was best.
BEST ACROSS THE BOAD SWINGING CAMP CHAIR
The Nemo Stargazer
EQUIPMENT FROM NEMO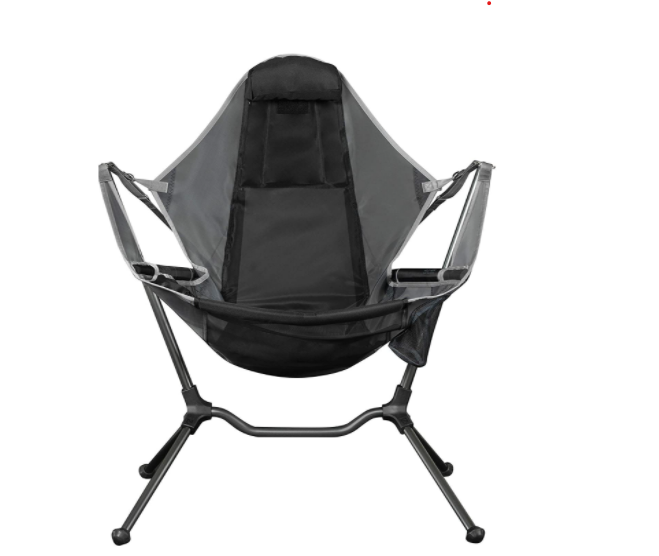 MOOSE JAW CHARGES $250 FOR THIS SERVICE.
Features:
7 lb. in total.
The maximum allowed weight is 300 pounds.
This chair has a seat height of 12.6″.
The Nemo Stargazer has a wide range of options. Adjustable and cushioned armrests and cup holders as well as legs that allow you to swing on any surface are included in some of the more expensive but highly acclaimed swinging chairs (unlike a rocking chair). To top it all off, it weighs a mere 7 pounds, making it the perfect chair for stargazing. However, if you're only going a few miles to a secret beach or sunset hangout, you won't be in too much pain.
Pros
It is light in weight.
Reclines extensively behind
Armrests and headrests with padding
Carry-on case
Cons
Expensive
The seat height is rather low.
The Best Swinging Hanging Camp Chair Out There
Hanging Chair by Segmart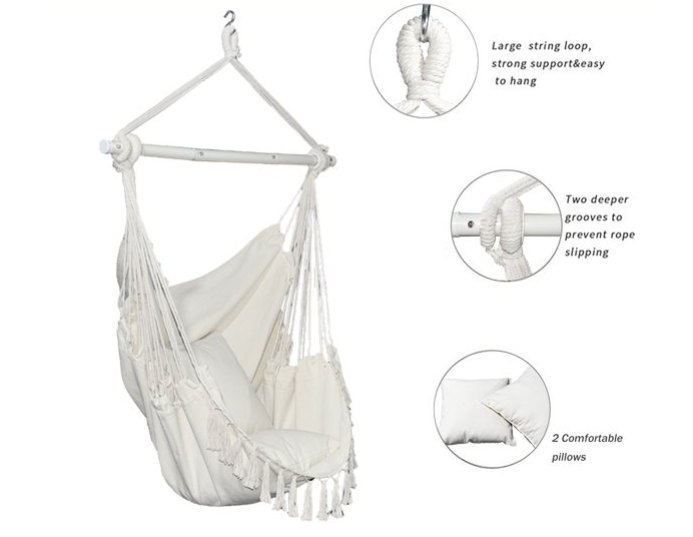 SEGMART
At WALMART, this item costs $31.
Features:
I'm 6 lbs heavy!
There is a maximum weight of 350 lbs. per person.
Adjustable Height of the Chair
For those who frequently camp or spend time outside in regions with well-placed tree branches or awnings, a hanging swing chair may be a better alternative than a freestanding one. This chair has a lot of padding and comes with two pillows. It hangs from a hook that's easy to set up. As a bonus, it comes with a storage bag that can accommodate 350 pounds.
Inexpensive
Intensely cushioned
Setup is a breeze.
Hanging surface overhead is required.
There aren't any storage compartments or cup holders.
CHEAPEST COST CAMP CHAIRS THAT SWING
Retractable Folding Hammock Chair by Rio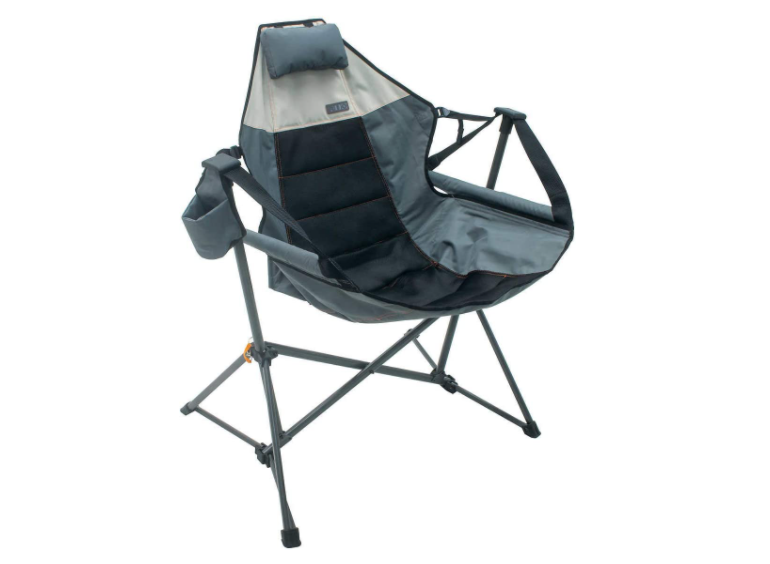 RIO
Features:
Thirteen pounds
The maximum allowed weight is 300 pounds.
Reviews indicate that the seat is too high for some people's comfort.
When it comes to camping chairs, the chair price of the Rio Foldable Hammock might appear high compared to other ordinary folding chairs, but when compared to other chairs without the swinging element, the price is rather affordable. Users over six feet tall may sit comfortably on the chair's big seat for roughly $70, which comes with a padded headrest and a simple carrying bag.
Pros
Large in terms of size.
Low cost
The use of a thin layer of padding
Cons
There is no foot rest.
Armrests that aren't too large
Portable Outdoor CGI Waterslide Folding Chair
Amazon is charging $75 for this item.
DICK'S SPORTING EQUIPMENT $80
Features:
Weight: ten pounds, approximately.
It is prohibited to weigh more than 250 pounds.
The height of the seat is 14.8 inches.
If you're planning a day at the beach but don't want to spend it lying on a flat blanket, the CGI Waterside Beach Rocker can be a good option. For a more stable base, it does not have four feet that dig into the sand, but rather two horizontal bars that evenly distribute the chair's weight. When you're ready to leave the beach, just shake off the sand from the mesh back and put your drink in the attached cup holder to keep the sand out.
Defies submersion in sand.
Lightweight in comparison to other options.
Assembled
Seats with a lower height
There isn't a transportable case (built-in handle)
BEST SWING CHAIR CONVERTIBLE
Outdoor Rocking Chair with Detachable RockersCoastrail Outdoor Folding Camping Chair High Back Padded Lawn Chair with Foldable Cup Holder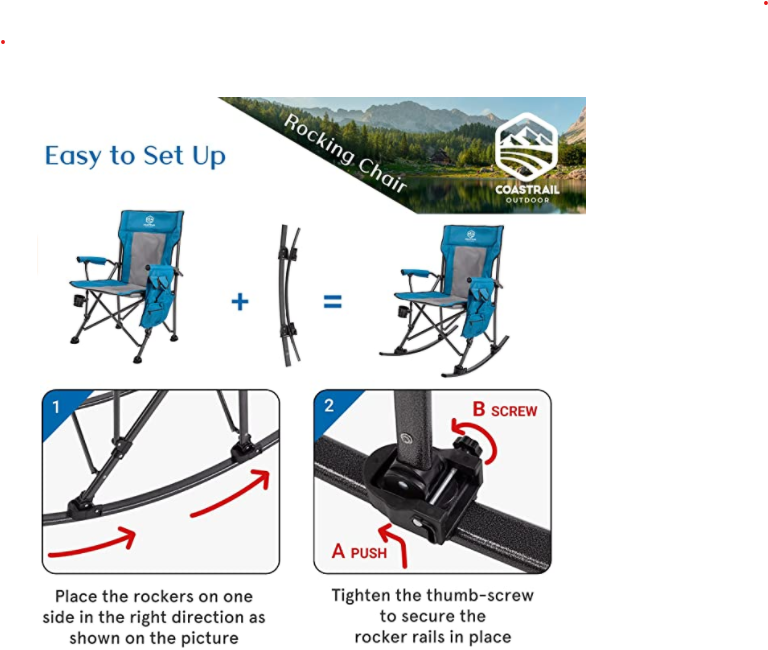 Features:
Weighing in at around 16 pounds.
There is a maximum weight of 350 lbs. per person.
15″ is the standard height for the seat.
When you attach the two leg attachments to the Coast Trail Folding Rocking Chair, you are going to have an outdoor rocking chair as well as a folding camp chair. Even ground is ideal for the rockers (so not sand or loose dirt). Foldable cup holders and large storage pockets are also included, as is a softly cushioned seat and headrest.
Legs that can be converted into rockers
Multiple pockets for storing things
Seat height is rather low.
The rocking range is limited.
BEST SWINGING CHAIR – HAMMOCK STYLE

Folding Hammock Chair – Ozark Trail
OZARK TRAIL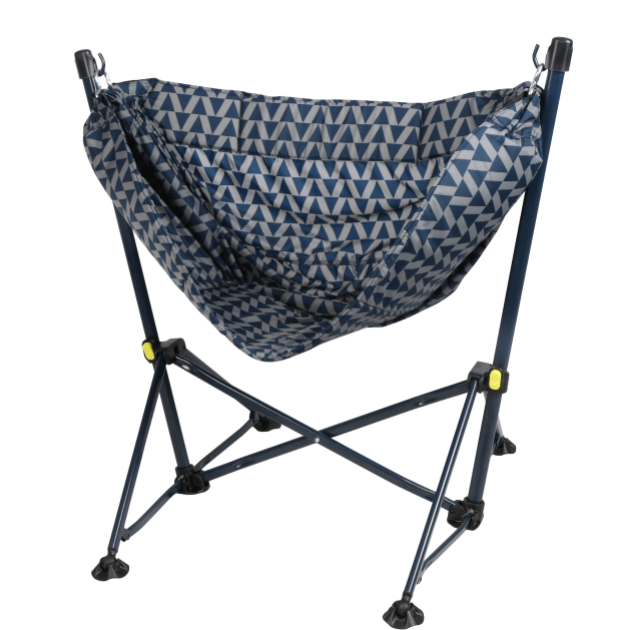 Specifications:
11.5 pound weight
300 pound weight limit
12″ Seat Height
Swinging or otherwise, camp chairs aren't known for being very comfy, but the Ozark Trail delivers. The huge chair can support 300 pounds, making it suitable for adults, but it's also spacious enough for youngsters and shorter people to curl up in, almost like a hammock. It's also simple to throw over your shoulder when you already have your hands full with camping gear or refreshments at halftime at your weekend soccer game because it only weighs 11.5 pounds and folds to the size of a large umbrella. The hammock-style design, on the other hand, is lacking in elements like as head support and a footrest, as well as a low seat height.
Pros
Extremely light
Inexpensive
Case for transporting
Excellent for children.
Cons
There are no headrests, armrests, or cupholders
SWINGING CAMP CHAIR WITH THE MOST UNIQUE DESIGN
TraHammaka 10314-KP Hammock Hitch Stand
Specifications:
50 pound weight limit
300 pound weight limit
Seat Height is Adjustable (based on hitch height)
You can't seem to discover a swinging camp chair that you like? Consider Hammaka's hitch-mount chair or hammock mount if your truck or SUV has one. It can handle up to 300 pounds and fits on ordinary 2-inch receivers; you may use it to hold one hammock or two swinging chairs. Installing and removing the frame, which weighs 50 pounds, requires some effort. Apart from the weight, it simply takes a minute or two to install or remove, so you can throw it in your trunk and connect it to your car when you get to your campsite.
Pros
Attaches to a vehicle hitch
It can accommodate two seats or one hammock.
Ideal for use on uneven surfaces.
Cons
Heavy
Hammock and chair must have seperate orders
The best camping hammocks and swinging chairs sblog
Conclusion
In conclusion, camping swinging chairs and hammocks are both great options for enjoying the outdoors. They provide a comfortable place to relax and enjoy the scenery. Which one you choose depends on your individual preferences. If you're looking for something that is easy to set up and take down, a camping hammock is a good option. If you want a more luxurious experience, go for the best camping swing chairs. Whichever one you choose, make sure to enjoy the fresh air and beautiful views!