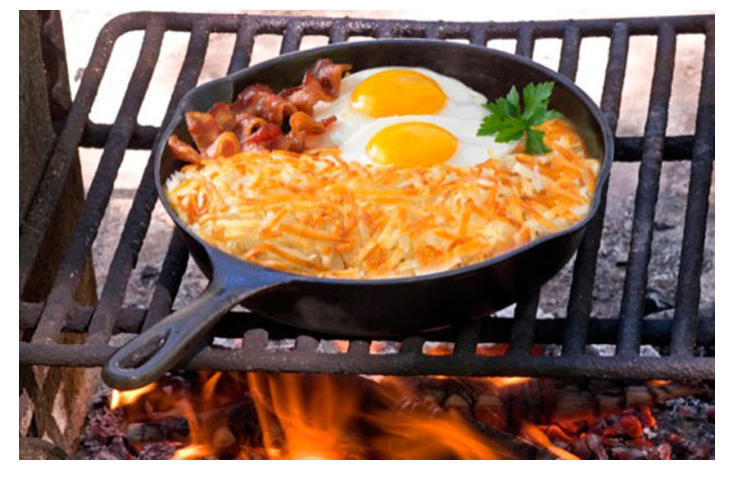 How to easily cook a nice meal while camping.
Every time you go out on a camping trip, the biggest problem that you will always encounter is what to cook. You need to have a good meal that will fill your stomach and, at the same time, have a good taste. If you do not know how to cook, then it may take you quite some time and effort to come up with a good dish. However, if you have the right knowledge and skills on how to cook, then it will not be a problem at all to come up with the right meal that will fill your tummy.
When you're choosing your camping meal, don't just think about what food would be tasty, but also look for foods that can be cooked in a few minutes and foods that will create little trash.
Traveling to the beautiful outdoors, conversing and having communication with nature is a relaxing way to get away from the city and breathe fresh air. While a camping vacation might provide a flavor of life in the woods, it does not have to entail eating very cold meals and freezing in the evening.
Some campgrounds do not allow fires, so verify with the facility ahead of time or visit their website for more information. Regardless, outdoor cooking stoves and heaters provide a way to make your outdoor camping experience more enjoyable and comfortable.
Camping stoves are available in a range of sizes, functions, and designs. Choose the one that best suits your requirements. If you'll be trekking with your gear, consider one that's light and compact; there are several that are specifically designed for backpacking.
If you want to drive to your camping spot and have a large family, consider a cooking stove with many burners. They enable you to prepare larger and more numerous meals. There are also ovens with grills that may be used to cook eggs and pancakes.
Outdoor camping cooking equipment is designed to allow you to prepare many meals at once. Because they're stackable, you can use the heat from the lower pot to heat up the upper one, allowing you to cook many dishes. You'll be able to make dinner faster while also saving petrol. Remember to use the smallest frying pan or pot feasible, as well as the least amount of water possible while boiling meals; this will save you money on gas.
Camping ranges use numerous types of fuel, which vary according to the manufacturer. Propane, butane, or white gas (sometimes referred to as "Coleman" gas) are the most commonly used and most suited.
Although kerosene and unleaded gas are still used, they are not favored since they have a disagreeable odor and are not as safe. Coleman fuel should be your preferred fuel because it is the safest and burns extremely cleanly with no odor or charring. Propane is expensive and does not offer heat, despite being the cleanest-burning fuel.
Gas cylinders are available in a variety of sizes, and the best one for you will depend on the sort of cooking you'll be doing as well as the amount of time you'll be camping. If you're hiking with your electronics, you'll want to stick to a small cylinder and cook minimally.
Although some campgrounds have cooking facilities, it will be much easier and less of a hassle to carry your own cooking equipment. Planning ahead of time and having a stove can ensure a pleasant outdoor camping experience.
Q & A
What is the best camping food to bring?
I was looking for ideas to make ahead of time for my camping trip. I am not a big fan of hot dogs and the like, but I love salads. So here is what I came up with.
Lettuce Salad Cups
Ranch dressing (creamy or light)
You can use ground chicken (seasoned with salt and pepper) too.
Cucumber—sliced thin
Cherry Tomatoes – halved
Prepare lettuce cups by washing lettuce, spinning or patting dry, and cutting into fourths.
Fresh cucumbers and tomatoes
Cut the cucumber into long, thin slices.
Cut the tomatoes in half.
Layer your cup with a spoonful of ranch dressing at the bottom.
Layer your chicken on top of the lettuce (cut it into small pieces so it will fit).
– Top chicken with cucumbers and tomatoes and add additional dressing if desired.
How do you store chicken for camping?
The difficult part of camping is the food. You have to have a way to keep food cold. If you have a fridge you can use for camping, like in an RV, that is going to be easier. I would get some ice packs just in case it does not cool down enough in the fridge. If you are using coolers, you need to keep the cooler out of the sun if possible. The ice will melt faster. The best way to keep your food cold is with ice, not just ice packs. You will need more ice than you think though. If you are cooking your chicken, it will take longer to cook and will take up more time and fuel.
Food storage means the food you cook and prepare remains safe to eat. It must be stored at a sufficient temperature and height to protect it from contamination by insects, rodents and other hazards. Even if you're only going away for a weekend, make sure that you take food that doesn't need refrigerating.
When packing your cooler, divide the ice packs and frozen food items evenly. Place heavier objects in the cooler's bottom. To avoid cross-contamination, place raw meat and poultry items in additional plastic freezer bags.
What meats dont need refrigeration?
Dehydrated ground beef (one-two months), freeze-dried meat (fifteen years), and vacuum-bagged smoked meat are the best meats that don't need to be refrigerated (6hours).
1The best way to store any food for an emergency is not with canned goods, but with freeze-dried food or dehydrated foods. The main reason for this is that these methods of food storage do not require refrigeration, which is not guaranteed in an emergency.
Dehydrating Food – Dehydration of food is done a number of ways and through numerous methods around the country. Some prefer the commercial approach of purchasing a food dehydrator while others prefer a DIY (do-it-yourself) approach. With either solution, dehydration is arguably one of the safest forms of preservation because it does not involve the addition of any chemicals or preservatives.
Freeze-dried meals are the best solution for this problem. These are the foods that last up to 25 years in the original packaging. In addition, they weigh less than fresh foods and still
What are the camping foods that do not need refridgeration?
There are many camping foods that do not need refrigeration. Some of these include dry goods such as pasta, cereal, and bread; canned goods such as fruits, vegetables, meat, and soup; and dairy products such as cheese and dry milk. If you are planning to cook while camping, consider bringing ingredients that do not require refrigeration, such as spices, oils, and some fresh produce